Mr. Pushkaraj Phadnis
Alumnus- AISSMS Institute of Information Technology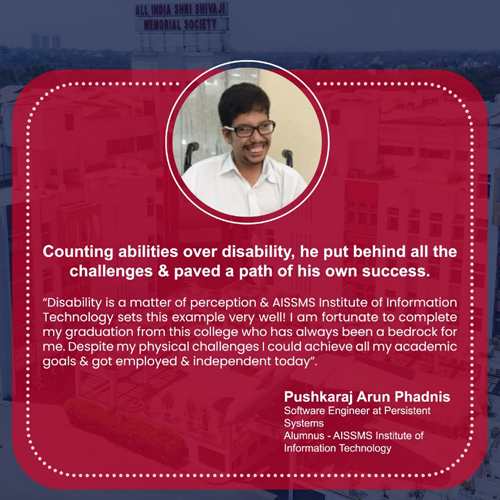 Physically challenged due to 'Cerebral Palsy', Mr. Pushkaraj Phadnis has overcome his disabilities with his strong will power & manoeuvred his mental abilities. AISSMS Institute of Information Technology is proud of such alumnus who looked beyond the obstacles & has become an inspiration to many. With this locomotor disability, he came to college on a bicycle with side wheels but never gave up his zeal. Considering his passion, with not sympathy but empathy, all the faculty & other staff were always supportive and made sure he never faced any inconveniences. Making use of the well-stocked library, he always kept studying & cleared all his semesters not only in first attempt but with a decent score too. Getting his papers written from the non-technical writers while dictating them the answers was an exhaustive task for him. But he never gave up! His polite nature helped him make many friends who used to help him write down notes of the lectures.
'Disability is not inability but the real opportunity'
Looking at his passion to learn he was rewarded by Principal Dr. Pradeep Mane on completion of his B.E. in first class despite the physical challenges.
Within 6 months of engineering, he acquired a job at Persistent Systems as a Software Engineer. He has spread his charm even there. He has received other awards like-
Reward and Recognition award at company for good work and positive attitude.
Award for successful differently abled person from National Association for the Welfare of Physically challenged, at hands of MLA Mrs. Medha Kulkarni.
Most recent, received a long service award.
Being cheerful despite challenges is what he is known for. He mentions how grateful he is to AISSMS Institute of Information Technology where he could build his foundation and make an independent life of his own.